SEND Information Report
How does the school know if a child needs extra help?
What should I do if I think my child has a special educational need?
How is extra support allocated to pupils and how do they move between the different levels?
How will school staff support my child?
When is a Education Health Care Plan given?
How will the curriculum be matched to meet my child's needs?
How will I know how my child is doing?
What support and training will be available?
What specialist services and expertise are available at or accessed by school?
How will my child be included on outside activities and trips?
How accessible is the school environment?
How will school support transitions for my child?
Wigan Council SEND Local Offer
If you have any concerns about something you see online, you can visit CEOP Safety Centre and make a report directly to CEOP by clicking the button below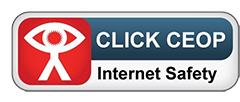 Kendal Road, Boothstown, Manchester M28 1AG
01617902123
enquiries@admin.boothstownholyfamily.wigan.sch.uk